Fish the Inshore Flats
of Fort Pierce, Florida
Inshore Flats Fishing Charters in Fort Pierce, Florida
3 Hour Flats
Fishing Charter
4 Hour Flats
Fishing Charter
5 Hour Flats
Fishing Charter
6 Hour Flats
Fishing Charter
Posted prices are cash based. Credit cards are welcome and will be accessed a processing fee.
Refunds may be subject to credit card processing fees.
Join Captain Mark Wright for a fun-filled day of flats fishing on the east coast of Florida in Fort Pierce. The Indian River Lagoon, which runs through Fort Pierce, is "the most diverse estuary in our country" and is truly a light tackle angling adventure!
Imagine if you will the serenity of the placid waters, the cry of an airborne Osprey as she hunts for her meal and then… the answer of its mate. Capt. Mark is gently moving the Banshee with the push-pole, the vessel slowly gliding across the shallow flat. A ripple on the water catches the Captain's eye: "Tail at one o'clock, sixty feet"!
The angler (you perhaps) makes the perfect cast and the artificial crab gently "plops" into the water not three feet past the unsuspecting redfish. The fish is still tailing hard, diligently rooting for the shrimp or crab it's working to extract from the grass bed. The angler inches the lure within a foot of our target and the redfish suddenly lights up! A sharp thump on the line is felt as the fish inhales the plastic and the angler lowers the rod tip, tightens the line then, comes up quickly with the rod and says "Fish On"!
Captain Mark has seen this scene play out countless times over his many years as a professional guide along the Indian River Lagoon and it never gets old! And the grass flats and mangrove shorelines of Fort Pierce, Florida is a fantastic fishery. You'll target trophy trout and redfish on the grass flats as well as redfish and snook along the mangroves. Toss in sheepshead, mangrove snapper, jacks and tarpon…and you've got yourself a watery playground in Fort Pierce, Florida.
Flats Charter Boat & Equipment
For flats trips, Capt. Mark will use his flats boat (Ranger Banshee) and take 1 or 2 people fishing. You'll be primarily targeting trout, snook, redfish, tarpon and jacks. Fishing will take place on the shallow flats and mangrove shorelines unreachable by the bay boat.
Natural bait (LIVE bait is not always available) and/or lures will be available at clients request.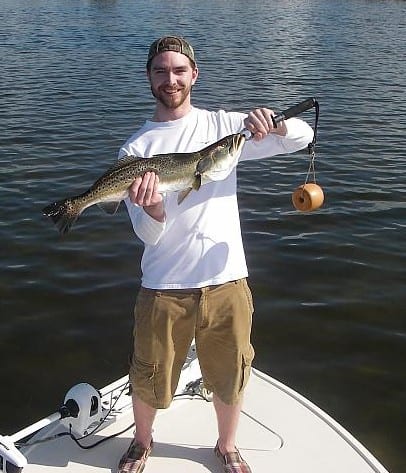 Rates starting as low as $350
Multi-boat trips are available. Call Capt. Mark for details. Online booking is available for your convenience.