Meetup Locations
for captain mark wright
Fort Pierce Fishing Charters Pickup Locations
Approximately 48 hours prior to your trip Capt. Mark will contact you directly with details as to the exact starting time and boat launch location for your great day of fishing. If, at any time, you have questions just give Capt. Mark a call at: 321-302-3474
Wabasso Causeway Boat Ramp
1967 Bridge Blvd
Vero Beach, FL 32967
300 Dahlia Ln
Vero Beach, FL 32963
MacWilliams Park and Boat Ramp
301 Acacia Rd
Vero Beach, FL 32963
600 Indian River Dr
Fort Pierce, FL 34950
Melaleuca Dr
Fort Pierce, FL 34949
396 Torpey Rd
Fort Pierce, FL 34946
420 Seaway Dr
Fort Pierce, FL 34949
613 N Causeway Dr
Fort Pierce, FL 34949
Fishing the Inshore Waters of Ft. Pierce, Florida with Capt. Mark Wright
Most of Inshore Fishing Adventures' charters center around Fort Pierce's diverse section of the Indian River Lagoon. We have several fishing options here with the Fort Pierce inlet offering plenty of diversity. Seasonal patterns, tides and weather conditions often dictate whether or not we will be targeting the inlet and the surrounding area consisting of the Turning basin and the North and South bridges.
To the south of town lies the most expansive region of the Indian River Lagoon system. The western shoreline is riddled with private boat docks, many of which harbor a multitude of fish species. Snook, tarpon, redfish, seatrout, black drum, sheepshead, mangrove snapper and the occasional flounder find shelter and feeding opportunities here.
The eastern, mangrove-lined shoreline features several creek mouths with the occasional sand bar. The "flats" in this area slowly taper from the shoreline and eventually reach deeper water. We often fish here in the early mornings for spotted seatrout, ladyfish and jacks.
Little Mud Creek and Big Mud Creek are well known for holding snook and tarpon, but in reality these areas hold every fish species common to the Indian River Lagoon.
The spoil islands located near the Intracoastal Channel have long since eroded away and are now more or less sunken sand bars. They do however still hold lots of fish from time to time and we often target these structures when water temperatures become too hot or too cold in shallower regions.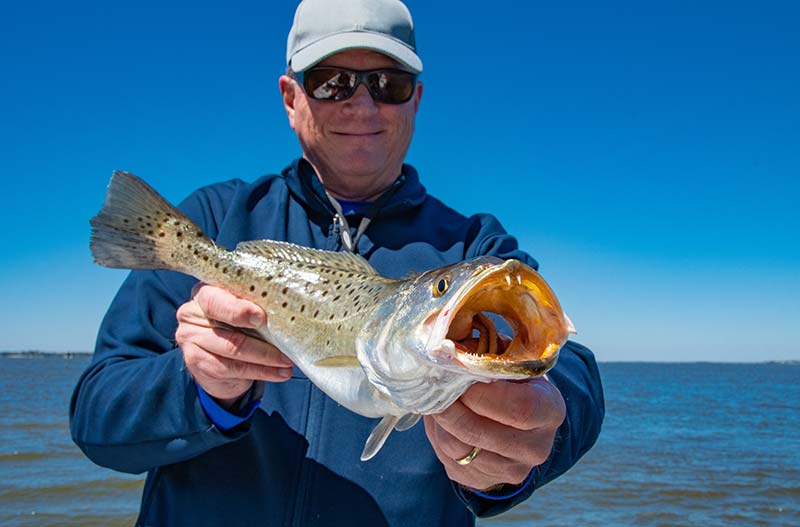 Learn more about our charter options!