Fish Ft. Pierce Inlet
& the Intracoastal Waterway
Fort Pierce Intracoastal & Inlet Fishing Charters
3 Hour Fort Pierce Inlet
Fishing Charter
Additional anglers $50 each
4 Hour Fort Pierce Inlet
Fishing Charter
Additional anglers $50 each
5 Hour Fort Pierce Inlet
Fishing Charter
Additional anglers $50 each
6 Hour Fort Pierce Inlet
Fishing Charter
Additional anglers $50 each
Posted prices are cash based. Credit cards are welcome and will be accessed a processing fee.
Refunds may be subject to credit card processing fees.
More often than not we'll be fishing the deeper flats and spoil islands (both visible and sunken) for trout, ladyfish, pompano, jacks etc. Other possible catches are snook, tarpon, sharks, flounder and tripletail.
A popular method for fishing these deeper waters, which average three to five feet in depth, is to fish a live shrimp or soft plastic lure under a popping float. These easy-to-use rigs are deadly on many species of fish like spotted seatrout, ladyfish, pompano, jacks, snook and many, many more.
For the more experienced anglers, the float (bobber) may not be necessary and a wider variety of lures may be used.
Natural bait in either a frozen, fresh dead or live state may be employed where it is practical. Live bait is not always available for purchase or by procuring ourselves. When it makes sense to catch our own live bait we will consider it a team effort. On days where procuring live bait becomes time consuming – extra time may be added to your fishing excursion!
Inlet fishing is a blast when the bluefish and Spanish mackerel move inside. Snook and tarpon may be targeted seasonally and when the tides are favorable. Sharks are always a possibility here…
Casting spoons or jigs to schooling Spanish mackerel or bluefish can be an exciting and fast-paced experience, whether they are inside the inlet or close to shore on the ocean side. Trolling these same lures may also be possible for the casting challenged anglers!
Targeting snook, redfish or tarpon within the inlet is often accomplished by drifting in the current with a live baitfish. We tend to use heavier rods-reels-line and leader here, with enough added weight to help the baitfish sink into the kill-zone of the predators! If live bait is unavailable we use a variety of jigs and plugs designed to imitate our local, natural forage fish that predators routinely feed upon.
*LIVE BAIT DISCLAIMER for Inshore Fishing Adventures 2023
The Captain is happy to purchase (when available) a reasonable amount of live shrimp at no additional cost to his clients. Clients wanting to ensure against running out of live shrimp may choose to contribute to the rising cost of live bait!
Live baitfish, such as mullet, croakers, pinfish, pigfish, pilchards, threadfin herring, sardines or others are not included in the basic charter fees. Clients targeting snook or tarpon are strongly encouraged to purchase live bait fish from our local professional bait suppliers. They usually meet us at or near the boat ramps.
Call to know more about live bait options and costs: (321) 302-3474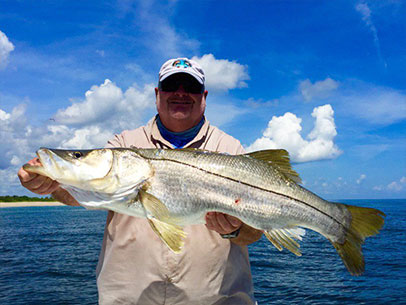 Rates starting as low as $350
Multi-boat trips are available. Call Capt. Mark for details. Online booking is available for your convenience.