Wow, what a great Wednesday morning fishing with friend and neighbor, Capt. John!
We took my 23 Bay Bolt out for a (very) nearshore adventure! Looking for "interesting" structure changes on the inshore reef between Fort Pierce and Vero Beach.  We positioned the boat to allow short casts using light weights, 3/0 circle hooks and sardine chunks to entice our quarry.
We caught more fish than either of us cared to count. The mixed bag included mutton and lane snappers, sennets, sharks, margates, jacks, a couple of "reef" species I would need to look-up to identify and more. The lanes for the most part were quite large; especially for nearshore areas and a few were invited home for a quality fish-fry!
We ran through our ten pounds of sardines just as the winds shifted to the east and started to blow. The Bay Bolt sliced through the now choppy seas quartering on her port side without complaint as we called it a day.
Saturday I was joined by Birthday-boy Mark, his wife, Ellie and friend Steve. Mark's hope was for a snook or two, but Mother Nature had other plans as the wind simply howled from the south and southwest. The forecast for 10 to 15mph was clearly wrong!
We tried hiding from the gusting winds in well-known "snooky" spots, along with seemingly every other vessel on the water. Between the too cramped conditions and extra debris littered water; exacerbated by the high winds pushing the out-bound tidal currents at breakneck speeds I decided to try a different tact. Since the "intercoastal trip" Mark booked was proving to be undoable I headed to a favored backwater spot that promised a real possibility for catching some fish!
This spot was still susceptible to the winds, but the current here wouldn't be so fast moving. In fact it was near perfect for allowing a live shrimp pinned to a light-weight jighead to drift along and make occasional contact with the bottom.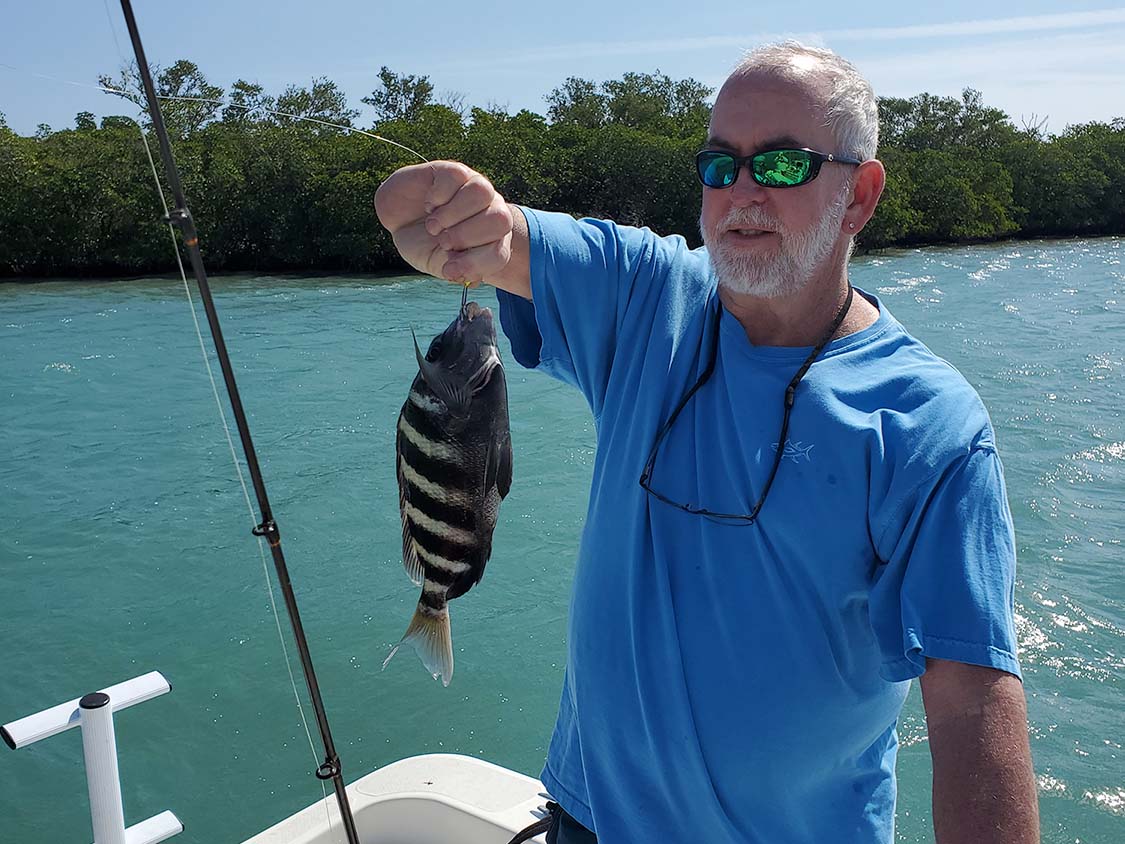 Success was at hand as all three anglers managed to bend their rods frequently. No trophy fish were taken, though the group did keep a few sheepshead, a couple of bluefish and a tasty Spanish mackerel for dinner. Steve even commented how nice it was to go "catching" instead of fishing; for a change. You know I smiled at that comment!
Until Next Time!
Capt. Mark Wright